Season's Greetings!
It's the last 2016 edition of the Capitol Review - who is ready for the holidays?! In this month's Capitol Review, we'll be covering:
Community activities in the last month

Election Results

Helpful Health Insurance Information

Pre-Legislative Session Survey

Update on SH-288 Tollway

Capitol Internship Opportunities
District 29 Happenings
In the past month, we've attended a wide variety of events, including 
Silver Bells, The Alvin-Manvel Chamber of Commerce's Monthly Luncheon with Mayor Delores Martin and City Manager Kyle Jung, a Memorial Tree Planting Ceremony in Honor of Fallen Pearland Police Officer Endy Ekpanya, the Gulf Coast Center Legislative Forum, Alvin ISD's Veterans Day Ceremony, Alvin Community Colleges Veterans Day Ceremony, the Kidz Harbor Denim and Diamonds event, Pearland Veterans Walk, the Wobble Before You Gobble Community Health Fair, an Eagle Scout Ceremony for 3 gentlemen from Pearland, the Mexican Mobile Consulate opening at Alvin Community College, and constituent meetings. We also attended the Pearland Chamber of Commerce Monthly Luncheon, the Alvin Community College Gala, had a Thanksgiving feast with family, and attended the UT vs. TCU football game with my grandsons, and attended the West Pearland Republican Women's Club Christmas Party.
While in Austin over the last month, I met with stakeholders to discuss public school finance, religious liberty and privacy, abortion-related issues, and parents' rights issues. I also met with the Chairman of the Texas Transportation Commission to advocate for Segment B of SH-99 (Grand Parkway), that is slated to be built in our district.
The Brazoria County Hispanic Chamber of Commerce in conjunction with Alvin Community College welcomed the Mexican Consulate's Mobile Unit to our county. This will help serve many constituents without having to leave our district.
Election Results
It was a long and challenging race, but we made it! The people of House District 29 chose results over rhetoric, and I am looking forward to serving you for a third term in the Texas House of Representatives. The 85th Legislative Session begins on 

January 11th
.
Freddie and I are grateful for the many, many faithful friends and supporters who made this victory possible for us. It takes a lot of people to get us across the finish line, from displaying signs to block walking to contributing to praying to voting. We appreciate the continued confidence you have shown in us!
Whether you voted for me, didn't vote for me, or didn't vote at all, I want you to know that I am your State Representative. This is an office I do not take lightly. It is easy to become discouraged in these uncertain times, but I would like to remind us that, as Abraham Lincoln urged so many years ago, we must come together and "call on the better angels of our nature" to work for the good of our community, this state, this nation, and this world. Let's continue moving Texas forward.
We had an impressive increase in the number of people who voted in Brazoria County this election year. Many folks volunteered to work with me at various poll locations to show their support in keeping our district RED. Thanks for all your support!
Health insurance: 5 things you may not know
The Texas Department of Insurance (TDI) has assembled a webpage with helpful information for insurance customers - 
click here
 to view TDI's "Take Five!" page. 

Here's an excerpt from a Take Five article on Health Insurance: 
Health insurance helps you get and pay for the care you need if you get sick or hurt. Here are five tips to make the most of your qualified health plan coverage.
Preexisting conditions: 

Health insurance companies cannot deny you coverage or charge you more because of a health condition or disability. When deciding your premium, companies may consider only your age, where you live, whether you smoke or use tobacco, and whether the coverage you're buying is for an individual or a family. They may not consider any medical condition or history, disability, or other health factors.

Children included: Children may stay on their parents' plans until age 26. They don't have to live at home, be enrolled in school, or be claimed as a dependent on their parents' tax return. Children with disabilities may continue to get coverage after age 26. And Texas law requires insurers to provide coverage for dependent grandchildren up to age 25.
How to appeal: Most plans have a process for you to appeal if a claim is denied. If you appealed with your health plan, and you're still not satisfied, you may be able to have an 

independent review organization

 (IRO) consider the denial. An IRO is an independent third party certified by TDI. The insurance company or HMO must pay for the review, and it must follow the IRO's decision.

No dollar limits: Insurance companies cannot put dollar limits on the amount they will pay for the covered health care you receive in a year or over your lifetime.
Filing a complaint: TDI regulates fully funded health plans and can help you resolve complaints with those plans. If your health plan ID card has "TDI" or "DOI" on it, you can file a complaint with them. Use their online resource for more information about to file a complaint or call 1-800-252-3439 for information.
Many organizations showed their support of Veterans' Mental Health Awareness during the Annual Veterans Day Walk held at the Pearland Recreation Center.
Survey Says....
We have many priorities in this state: the thousands of children in our foster care system should have the opportunity to have a good life. Students in our public schools should receive a quality education. Commuters should have access to safe roads to get them to work in a timely manner. The challenge is to assist with the great needs we have while also being conservative in our fiscal appetites. We must think long-term to determine what is best for our state, and I remain committed to having those difficult discussions to ensure taxpayer dollars are being spent wisely.
The 85th Legislative Session is just around the corner, and I would like to know what's important to you! Would you take a minute or two and fill out our pre-session 
survey
? We'll be sharing the results in next month's Capitol Review. Click the Texas Seal below to access the survey:
SH 288 Tollway Update
I was elated to hear that the 
Texas Transportation Commission met in mid-November and took action on the following agenda items dealing with the SH 288 Tollway project: 
Approve financial assistance to Brazoria County: The Commission gave final approval to grant $10 million to Brazoria County for the SH 288 project. The grant will be paid with revenue from the concession payment received under the comprehensive development agreement for the Harris County SH 288 toll lanes project. The Brazoria County Expressway includes two toll lanes in each direction in the median of SH 288 from just south of Clear Creek Bridge to County Road 58.
Approve the connection of the Brazoria County Expressway to the state highway system; approve payment for use of state-owned right-of-way; authorize project development agreement: The Commission approved a minute order allowing TxDOT to proceed on multiple action items regarding the Brazoria County portion of SH 288. The Commission approved the Brazoria County Expressway's connection to the state highway system, approved the payment for the use of state-owned right-of-way, and allowed TxDOT's executive director to enter into a project development agreement with Brazoria County and the Brazoria County Toll Road Authority. Once Brazoria County's bonds are paid, the project will become part of the state highway system. 
Capitol Internship
Do you know of any students who would be interested in serving as a 
Legislative Intern
 in my Capitol Office for the 85th Legislative Session? This is a hands-on, up-close, great opportunity to learn how the legislative process works. Check out the job description hyperlinked in this paragraph for details!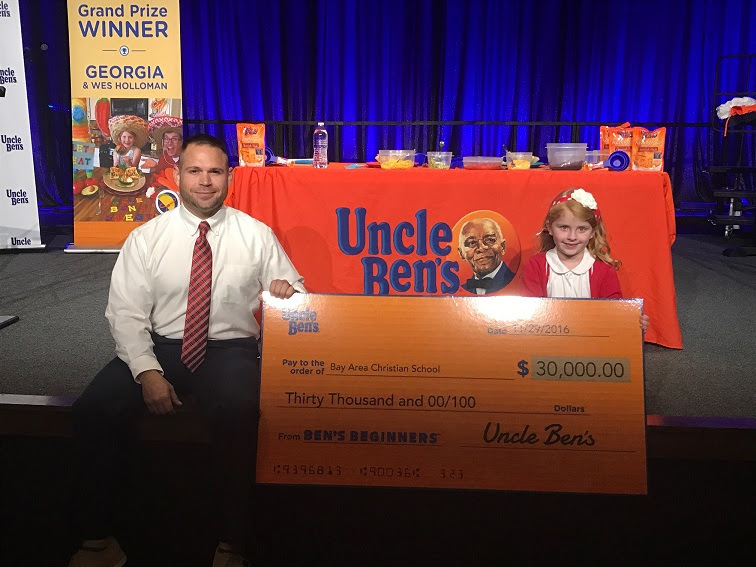 Congratulations to Georgia Holloman for being the grand prize winner of Ben's Beginners! She won her school a cafeteria makeover and prize money for her family. This program encourages both healthy cooking and quality family time.
God Bless Texas, Merry Christmas, and Happy Holidays!
P.S. 

December 10th

 is the blackout date for contributions ahead of session. If you haven't already done so, would you take a moment to contribute $29 to support our work for House District 29? This link will not be active after 

December 10th

. Thank you for your support!