Hello!
Hello and Happy Fall! Though we haven't been experiencing cooler, fall weather just yet, Hurricane Season is behind us and cooler weather is just around the corner. October was a busy month for us: we attended the Pearland Police Officers Association Community Appreciation Event, Neighborhood Night Out at Shadycrest, Texas Chemical Council and Association of Chemical Industry of Texas Luncheon, was a Celebrity Waiter at Keep Pearland Beautiful's Plant Thyme Fall Luncheon, and attended breakfast with the Manvel Police Department. We also attended the Sacred Heart of Jesus Catholic Church Annual Bazaar, the Alvin Lion's Club Battle of Highway 6 lunch, the University of Houston's Fall Address with Dr. Renu Khator, the Lion's Club of Pearland 64th Annual Turkey Shoot, and some FFA students stopped by my office for a presentation. We went to the Pearland Chamber Elected Officials Meet and Greet, the Pearland Area Republican Club Meeting with Sen. Taylor speaking, and the Texas Alliance of Energy Producers Reception honoring Rep. Drew Darby.
I attended the University of Houston Fall Address by Dr. Renu Khator, Chancellor of the UH System.
I also attended the AMACC Annual Membership Appreciation Event, the Houston Association of Realtors Elected Officials Reception, the 2nd Annual Grown-up Spelling Bee, Andy & Terry Reyes' 50th Wedding Anniversary in Alvin, the Brazoria County Republican Fun Fest 2015, the Grand Opening Ceremony of the Pearland Golf Club at Country Place, and the West Pearland Republican Women's Meeting. Today, I'm going to Congressman Olson's Women in Energy Summit and will be a server at the 2015 Sagemont Ladies Holiday Brunch!
I was the Keynote Speaker at Grand Opening for Chamberlain College of Nursing in Pearland and had the opportunity to speak at the Tri-County Republican Women's Club and the Brazoria County Cities Association Meeting. If you would like me to speak at your organization's meeting, please contact my office; it would be an honor to attend your function.
Great to see many folks at the Alvin-Manvel Area Chamber of Commerce Member Appreciation Event! Pictured with me are Johanna McWilliams and Jay Hawkins. 
CONSTITUTIONAL AMENDMENTS
All seven of the proposed state constitutional amendments passed on November 3rd. Thanks to everyone who voted early and voted on Election Day, making their voices heard! Here is a quick review of the seven state propositions that passed:  
Proposition 1: Increases homestead exemption from ad valorem taxation for public school purposes from $15,000 to $25,000.

Proposition 2: Exempts surviving spouses of 100% disabled veterans who died before the original law took effect.

Proposition 3: Repeals requirement that statewide elected office holders reside in Austin.

Proposition 4: Allows pro sports team charitable foundations to conduct charitable raffles.

Proposition 5: Authorizes counties with a population of 7,500 or less to perform private road construction and maintenance.

Proposition 6: Recognizes the right of the people to hunt, fish, and harvest wildlife subject to laws that promote wildlife conservation."

Proposition 7: Dedicates certain sales and use tax revenue and motor vehicle sales, use, and rental tax revenue to the state highway fund to provide funding for nontolled roads and the reduction of certain transportation-related debt.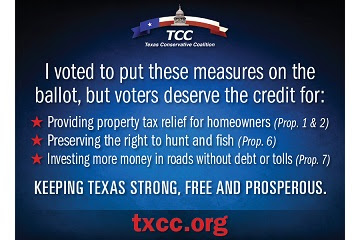 STUDENT LEADERSHIP ADVISORY COUNCIL
I am pleased to kick-off the first meeting of the inaugural Student Leadership Advisory Council (SLAC) tomorrow morning! This is a group of 15 impressive students who attend public school, private school, and homeschool and live throughout District 29. SLAC will provide a unique opportunity for these high school students to engage in the legislative process with me and my staff and obtain a hands-on education of the role of state government.
Students selected include, in alphabetical order: Mikael Floyd, Ted Frick, Kristen Graham, Bushra Hamid, Sarah Hoffmann, Victoria Kiefer, Collin Koza, Shalini Lakshmi, Diego Lopez, Alice Nong, Paola Obispo, Blake Reddix, Abigail Russell, Ryan Shaw, and Camryn Snell.
Their backgrounds are impressive, and I am really looking forward to working with these students to share the inner-workings of Texas state government and engage them in the legislative process. Stay tuned for more updates throughout the school year!
Fine group of Celebrity Waiters for the Keep Pearland Beautiful Luncheon last month!
DPS SEEKING CANDIDATES FOR 2016 TROOPER RECRUIT SCHOOLS
The Texas Department of Public Safety (DPS) is encouraging the public to consider a career in law enforcement, and to proudly serve and protect Texas by becoming a Texas State Trooper. DPS is accepting applications for trooper recruit classes scheduled for 2016. The next application deadline is Jan. 27 for the class beginning July 10, 2016.
"The men and women who graduate from the DPS Training Academy will join an elite and reputable crime-fighting force that has answered the call to serve and protect the great state of Texas for nearly 200 years," said DPS Director Steven McCraw. "DPS carries the enormous responsibility of protecting Texas from a wide range of public safety threats, and we are seeking a diverse group of first-rate recruit candidates who want to join one of the premier law enforcement agencies in the country." 
In 2015, the Texas Legislature and Texas Leadership authorized 250 additional trooper positions to be permanently stationed in the border area by August 2017, along with additional DPS recruit schools to help fill that need. Four trooper trainee recruit classes are planned for 2016.
After gaining experience on the job, Texas Highway Patrol (THP) Troopers have the opportunity to promote within THP or to other divisions or specialized units within the agency, such as the Texas Rangers, Criminal Investigations, SWAT, Tactical Marine Unit or Aircraft Operations. The department's 13 divisions and highly-trained personnel are steadfast in their commitment to serving and protecting the state, many of whom use cutting-edge technology and equipment to identify, disrupt and deter crime as well as dismantle dangerous organizations such as Mexican cartels, their gang counterparts and other criminal threats.
DPS is an equal opportunity employer, and the starting pay for accepted trainees is $4,623.44 monthly or $55,481 yearly, based on the current 10-hour workday (50-hour workweek). Basic requirements for acceptance into a DPS recruit class include the following:
20 years of age at the time of application and 21 years of age upon graduation

60 college-earned hours from a regional accredited college/university; or 24 months active duty military or full-time peace officer experience; or six years of service in the military reserves or National Guard

Pass a physical fitness test, written assessment, criminal history check and polygraph exam
For more information about the upcoming recruit class dates and deadlines, minimum requirements or to apply, visit www.JoinDPS.com. Individuals can also contact a regional DPS recruiter by calling 1-866-898-7667.  After submitting an online application, applicants will be notified by email if they are selected to continue to the testing phase. The current recruit class graduates on Dec. 18, 2015, and the next school begins Jan. 10, 2016.
COMPTROLLER HEGAR RELEASES THE CERTIFIED REVENUE ESTIMATE
Texas Comptroller Glenn Hegar recently released the Certified Revenue Estimate (CRE) for the 2016-17 biennium. The CRE not only outlines how the Comptroller certified the budget, it also revises estimates in the Biennial Revenue Estimate (BRE) to reflect current economic information. Hegar presented the BRE at the start of the Legislative Session, and we used it to craft the biennial (two-year) budget for the State of Texas. The CRE came to $110.4 billion - that's a 2.3% decrease from the BRE, which was $113 billion. The explanation for the decrease in available revenue can be largely attributed to the decline in the price of oil.
Thankfully, due to the Legislature's conservative approach to developing the biennial budget, this reduction in revenue will not affect our ability to pay for all the items in the budget we passed during the Legislative Session, which concluded June 1st of this year.
Rest assured that we will continue to exercise fiscal discipline in the budgeting process in the upcoming 85th Legislative Session in 2017. The energy market is a volatile one! For more information about the Comptroller's latest revenue estimate, take a look at this infographic: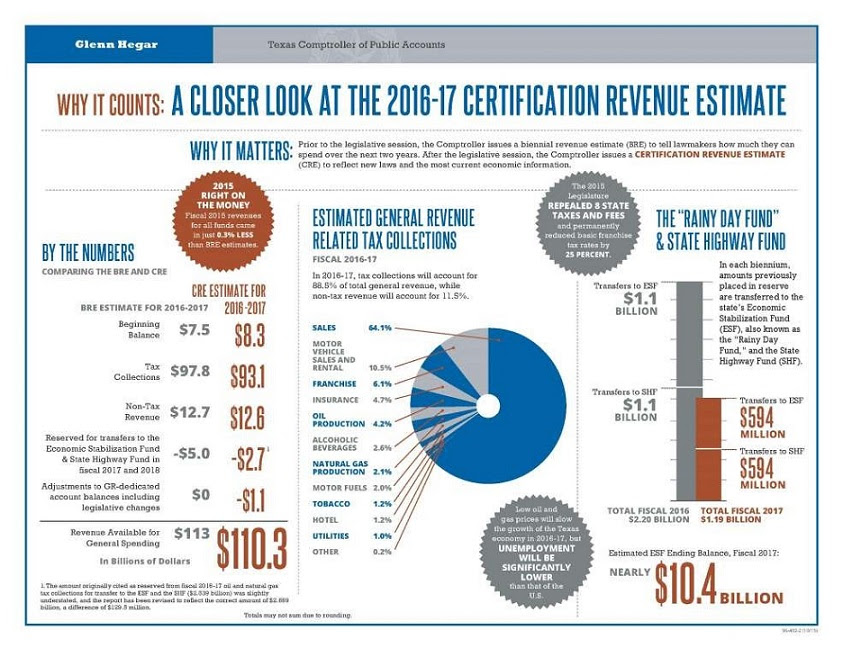 REP. THOMPSON IN THE NEWS
If you have not already done so, please follow me on Facebook and Twitter to stay updated and stay in touch! If you need assistance on any state-related issue, please contact my Pearland office at (281) 485-6565 or my Capitol office at (512) 463-0707, or email me at District29.Thompson@house.state.tx.us.
God Bless Texas!
Ed Thompson
District 29
P.S. Have you made a contribution to my re-election campaign to ensure I can continue to be a conservative voice for you and for liberty in the Texas House? If not, please click on the "contribute today!" button below to make it happen! If you can donate $29, it would be an immense help. You can also send a check payable to "Friends of Ed Thompson" and mail it to me at P.O. Box 3453, Pearland, Texas 77588. Thank you!